About Focus Point Dog Training
Puppy and dog obedience training is our passion at Focus Point Dog Training. Through our professional in-home dog training program, your dog can learn basic commands to more advanced off leash training. We also offer behavior modification methods and focus on the unique needs of your dog as well as work with you and your family to get the great dog behavioral results you desire.
Focus Point Dog Training has put together what we believe to be the best puppy and dog obedience training programs for any dog. Our training is guaranteed for the life of your dog. We train all breeds, sizes and ages. Whether your dog is large or small, high energy and aggressive or antisocial and anxious, Focus Point Dog Training can successfully work to correct any behavior problem and help your dog become a better member of your family and community.
Through proper training with proven techniques, your dog will learn to respect your commands as the human leader of their pack. Trainer Dave Roberts has more than 30 years of experience in dog training and has studied under some of the most recognized and renowned experts in the field. With his tried and true skills and techniques, he can turn any negative behavior into positive behavior.
Puppy obedience training can begin at 12 weeks of age. By socializing and influencing puppies at the beginning stages of their lives, we can teach positive behaviors and achieve amazing things very early on. However, it is never too late to start training. Focus Point Dog Training is proud to work with dogs of all ages.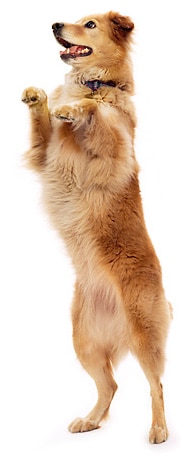 Satisfied Customers
Dear Dave,
Thank you does not begin to express the appreciation that my fiancée Sean and I have for the wonderful training our Labrador Retriever, Britain, received with you. I researched obedience schools throughout the Northeast looking for the one that I felt would best suit our needs and from the moment I spoke with you, I knew you were the right person. You are truly a professional in your field.

When we brought Britain to you, he was unruly because of his abundant puppy energy that fueled his lack of concentration and rambunctious antics. To everyone's complete and utter amazement, he was trained to become a poised, well-behaved, and obedient young dog who is now more of a pleasure than ever! You settled him down without taking away his loving demeanor and very silly sense of humor. You will certainly be highly recommended to others. Your training methods are extremely effective, yet most impressive is the way you interact in a loving and positive way with the animals. We brought Britain to you with reserved expectations, now we are already planning his advanced training session. Thank you so much for everything!

-Sean and Elisabet